Internationales Homöopathie Webinar Oktober 2020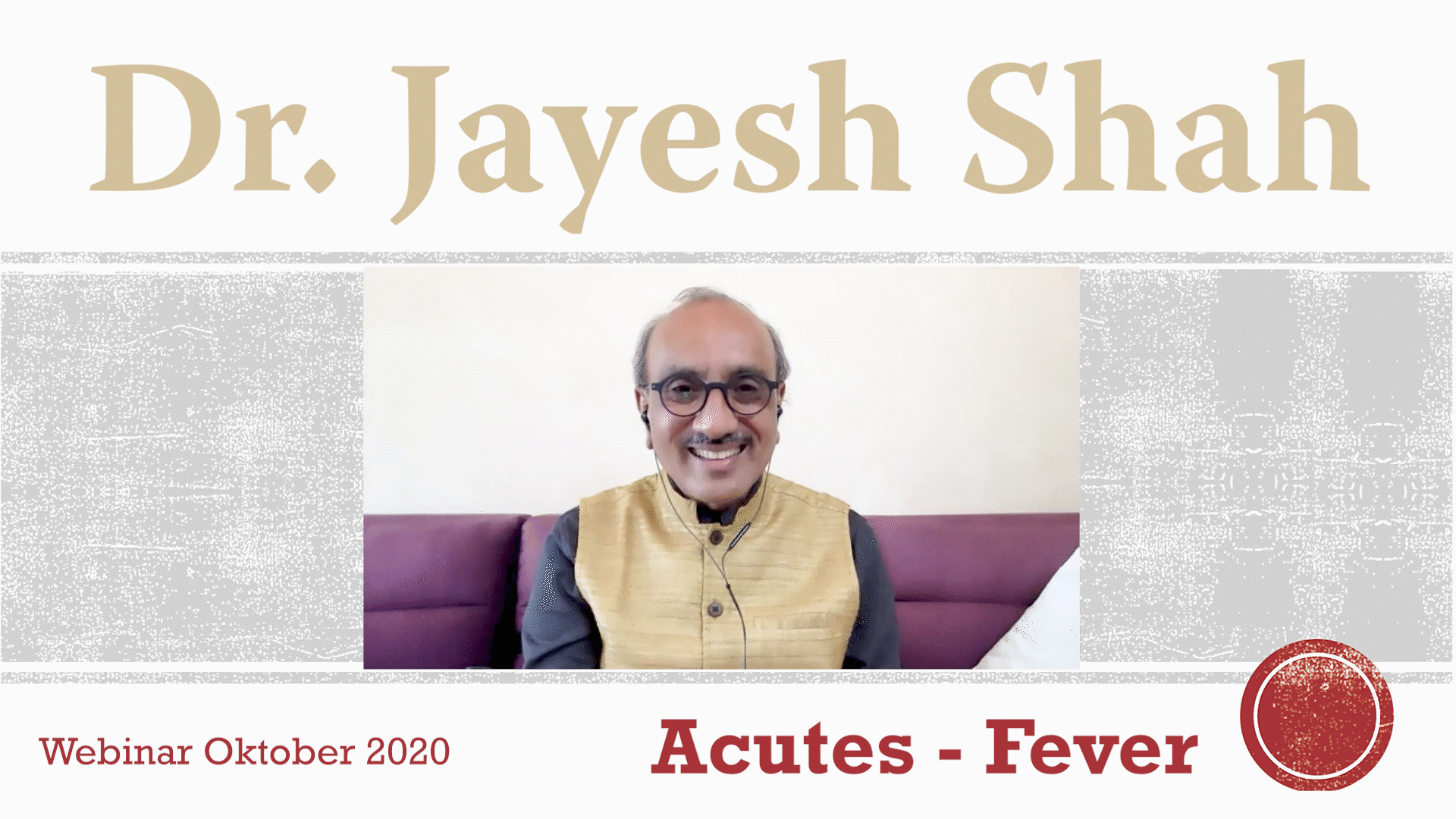 Thema: Behandlung von akutem Fieber
mit deutscher Simultanübersetzung!
Jetzt online als Video verfügbar!
Sie erhalten die Powerpoints, die Fälle und alle Skripte, die zu
diesem Webinar gehören!
Nachfragen und Bestellungen hier

Text in english
Aufgrund der großen Nachfrage vieler Teilnehmer freuen wir uns, Ihnen mitteilen zu können, dass wir ein Webinar mit Dr. Jayesh Shah anbieten, das im Oktober 2020 stattfand.
Nach der Absage der regulären Seminare gab es so viele Wünsche und Anregungen, dass wir uns nun freudig dazu entschlossen haben!
Dr. Jayesh Shah: "Liebe Kolleginnen und Kollegen,
es ist mir ein großes Anliegen, interessante und wissenswerte Methoden für die Herangehensweise an Fieberfälle zu vermitteln und dass der Ansatz über die Symptome genauso tiefgehend sein kann, wie das Verstehen der vitalen Empfindung.
In den letzten drei Monaten standen mein Telefon und mein Computer aufgrund der vielen akuten Fieberfälle überhaupt nicht mehr still. Noch nie habe ich in meiner gesamten homöopathischen Praxis so viele davon behandelt.
Und all das während des strengen Lockdowns in Mumbai und auf dem Höhepunkt der Angst vor Covid 19! Es ist eine sehr herausfordernde Zeit, in der die eigene Ausdauer und Belastbarkeit zu behandeln auf die Probe gestellt wird. Die vielen Stunden, in denen mich mit diesen akuten Fieberfällen beschäftigt habe, geben mir großes Vertrauen in die Behandlung solcher Fälle.
Diese Fieberfälle erfordern ein schnelles, aber sicheres Vorgehen in einer Situation, die eher vergleichbar mit einer geschäftigen "Ambulanz" ist. Die Behandlungsverläufe werden in weniger als 48 Stunden deutlich. Die Methodik der Fallaufnahme, um die eigentümlichen Symptome des Falles herauszuarbeiten, und die kreative Anwendung des Repertoriums helfen mir, die richtige Behandlung zu finden. Ich möchte in diesem Seminar meine Erfahrungen mit diesen akuten Fällen weitergeben.
Ich werde auch Fälle zeigen, in denen der Prozess ein tiefes Muster berührt. Fälle, in denen eine tiefe Heilung spontan während der Fallaufnahme geschehen ist.
Ich bin immer wieder überrascht von der Natur unseres Bewusstseins und den seltsamen Wege der Lebenskraft, die den Kranken wieder gesunden lassen.
Ich werde Fälle zeigen, die zum Verständnis von Mittelthemen beitragen werden.
Bitte kommen Sie mit mir, um diese Reise in das Fremde, Seltene und Eigenartige anzutreten."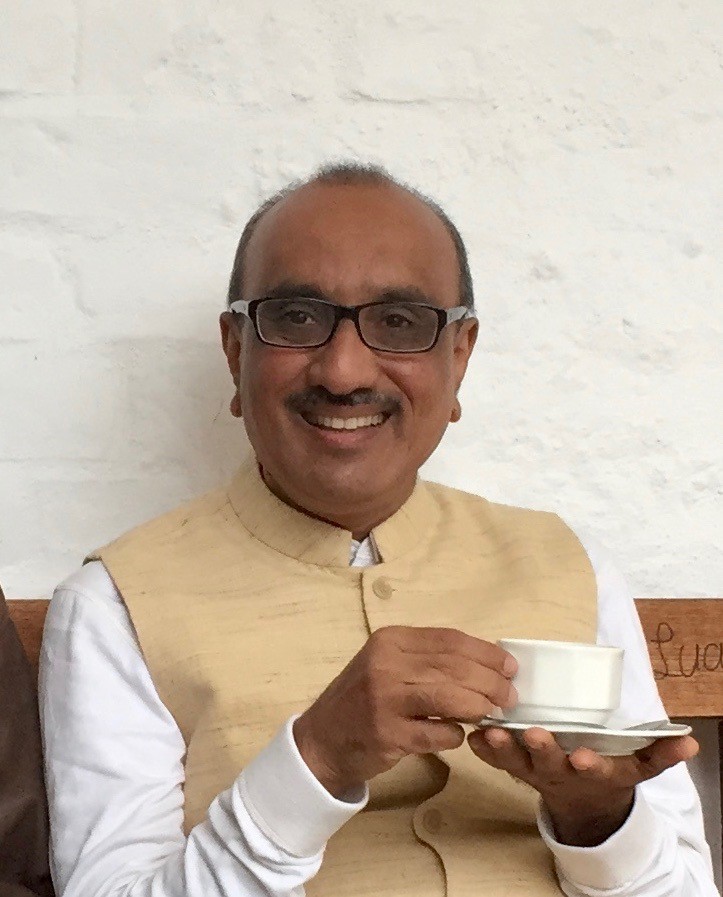 International homeopathy webinar October 2020
Dr. Jayesh Shah
Topic: Treatment of acute Fever
Now available online as video! You will get the Powerpoints, the
cases and all scripts belonging to this webinar!
Enquiries and orders possible here
Due to the great demand of many participants, we are pleased to announce that we are offering an webinar with Dr. Jayesh Shah, which happened in October 2020.
There have been so many requests and suggestions after the cancellation of the regular seminars that we have happily decided to do so!
Dr. Jayesh Shah:
Dear Colleagues,
I am keen on sharing interesting methodologies and approach to fever cases. How the symptom-approach can be as artistic as understanding the vital sensation.
Last three months, my telephone and computer have been super busy with acute fever cases. Never in my entire practice of homoeopathy, have I managed so many of them.
All this during this strict lockdown in Mumbai and the fear of Covid 19 at its peak! It has been the most testing time, putting one's endurance and resilience to heal to test. So many hours spent with so many acute fever cases brought a lot of confidence in treating such cases.
These fever cases needed fast yet sure approach, in a busy 'out patient clinic' like situation. Follow ups get clear in less than 48 hours. The methodology of case taking to elicit the most peculiar symptoms of the case and the creative use of the repertory helped me find the correct treatment. I will share my experience in these acute cases.
I will also show cases where the process touches a deep pattern. Cases where deep healing happens spontaneously during the case taking.
I am always surprised by the nature of our consciousness and strange ways of the life force to restore the sick to health.
I will share cases that will give insights into the nature of our consciousness and strange ways of healing by our vital force.
I will bring cases that will help understand remedy themes.
Please come with me to make this journey into the strange, rare and peculiar.

Dr. Shah's seminars with his latest inspirations are a real enrichment to our daily homeopathic practice and lead to a much deeper understanding of our patients. He lives in Bombay, India and works there together with his wife Rajul. He can look back on more than 30 years of experience as a classical homeopath. Already his father was a popular homeopath who practiced in Bombay for 40 years. He has gained worldwide recognition in the homeopathic world and holds seminars in India, the USA, Europe, Australia, New Zealand and Israel.
The essence of Dr. Shah's work is the manner of questioning and the clear observation of the patient including his gestures as well as the art of applying the corresponding rubrics. He has a brilliant knowledge of the materia medica (especially the rarely used remedies), which he conveys in a lively and memorable way. In doing so, he attaches great importance to the good, direct applicability of what he has learned in his own practice.
Paper cases are presented to show all aspects of case intake and follow-up consultations. Dr. Shah speaks an easily understandable English. You will enjoy his humorous and lively presentation style!
All participants are subject to the duty of confidentiality with regard to the cases presented.
Almasto Ralf Burmeister und Martina Schröder, Feldstegel 48, 21039 Hamburg,