International homeopathy online seminar
Dr. Jayesh Shah
Topic: including treatment of acute diseases (e.g. fever)
with german simultaneous translation!
17. – 18. October 2020
Due to the great demand of many participants, we are pleased to announce that we are offering an online seminar with Dr. Jayesh Shah. There have been so many requests and suggestions after the cancellation of the regular seminars that we have now happily decided to do so!
Dr. Jayesh Shah: Dear Colleagues,
I am keen on sharing interesting methodologies and approach to fever cases. How the symptom-approach can be as artistic as understanding the vital sensation.
Last three months, my telephone and computer have been super busy with acute fever cases. Never in my entire practice of homoeopathy, have I managed so many of them.
All this during this strict lockdown in Mumbai and the fear of Covid 19 at its peak! It has been the most testing time, putting one's endurance and resilience to heal to test. So many hours spent with so many acute fever cases brought a lot of confidence in treating such cases.
These fever cases needed fast yet sure approach, in a busy 'out patient clinic' like situation. Follow ups get clear in less than 48 hours. The methodology of case taking to elicit the most peculiar symptoms of the case and the creative use of the repertory helped me find the correct treatment. I will share my experience in these acute cases.
I will also show cases where the process touches a deep pattern. Cases where deep healing happens spontaneously during the case taking.
I am always surprised by the nature of our consciousness and strange ways of the life force to restore the sick to health.
I will share cases that will give insights into the nature of our consciousness and strange ways of healing by our vital force.
I will bring cases that will help understand remedy themes.
Please come with me to make this journey into the strange, rare and peculiar.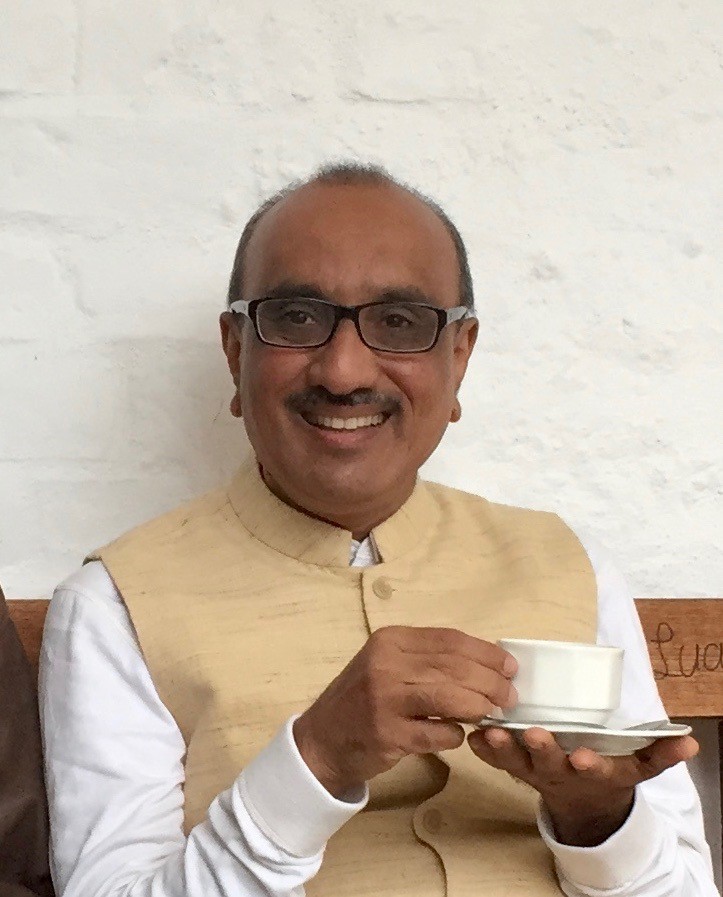 Dr. Shah's seminars with his latest inspirations are a real enrichment to our daily homeopathic practice and lead to a much deeper understanding of our patients.
Dr. Jayesh Shah lives in Bombay, India and works there together with his wife Rajul. He can look back on more than 30 years of experience as a classical homeopath. Already his father was a popular homeopath who practiced in Bombay for 40 years.
Dr. Shah has gained worldwide recognition in the homeopathic world and holds seminars in India, the USA, Europe, Australia, New Zealand and Israel.
Dr. Jayesh Shah and Dr. Rajan Sankaran together with several colleagues founded a very active working group, the "Bombay School" of classical homeopathy. Many international colleagues experienced the vibrant and innovative spirit with which this team enriches homeopathy in seminars lasting several weeks on site. Especially the "New Method", which was developed in Bombay, shows the deep understanding of these two extraordinary homeopaths.
The "New Method" focuses on working out the central sensation through understanding the patient's main complaint. Unique is the way to recognize the remedy through an intersection of nature kingdoms, families and miasms. This path leads in a fascinating way to a deeper understanding and a confident choice of remedy.
The essence of Dr. Shah's work is the manner of questioning and the clear observation of the patient including his gestures as well as the art of applying the corresponding rubrics. He has a brilliant knowledge of the materia medica (especially the rarely used remedies), which he conveys in a lively and memorable way. In doing so, he attaches great importance to the good, direct applicability of what he has learned in his own practice.
Paper cases are presented to show all aspects of case intake and follow-up consultations. Dr. Shah speaks an easily understandable English. You will enjoy his humorous and lively presentation style!
The seminars are self-contained, so not an ongoing course. You can start again at any time. Previous basic knowledge of the "New Method" is helpful. Please call us if you have any questions!
Certifications can be applied for at the Hamburg Medical Association (16 continuing education points), the DZVhÄ and for alternative practitioners. The seminars are also recognized for the homeopathy diploma.
All participants are subject to the duty of confidentiality with regard to the cases presented.
Seminar date
17 - 18 October 2020
Schedule
1st day 09:30 - 18:00 (09:30-11:00, 11:30-13:00, 14:30-16:00, 16:30-18:00)
2nd day 09:30 - 18:00 (09:30-11:00, 11:30-13:00, 14:30-16:00, 16:30-18:00)
Seminar fees
Early bookers pay 220,-- € per seminar with registration and bank transfer until 19.9.2020
For later bookings the seminar fee is 240,-- €.
Additional charge for simultaneous translation: 40,-- €
There are discounts for students, please contact us.
Bank transfers
please transfer to the account of Ralf Burmeister:
"Online-Seminar"
COMDIRECT
IBAN: EN48 2004 1111 0849 1722 00
Conditions of participation
A binding registration will only take place after receipt of the seminar fee. Please transfer money after we have confirmed your registration. For cancellations up to 4 weeks before the seminar begins, a processing fee of 20 € will be charged. In case of later cancellation the seminar fee is due in full, unless a substitute participant can be named. Cancellations must be made in writing in any case. The organizer reserves the right to cancel the seminar for special reasons and if the number of participants is too low. Seminar fees already paid will then be refunded in full. No further claims can be made against the organizer. All participants are subject to the duty of confidentiality regarding the case studies.
Please send the registration by e-mail with full name, address and telephone number to
Almasto Ralf Burmeister: Diese E-Mail-Adresse ist vor Spambots geschützt! Zur Anzeige muss JavaScript eingeschaltet sein!
For further information please contact:
Almasto Ralf Burmeister and Martina Schröder, Feldstegel 48, 21039 Hamburg,
www.homoeopathiehamburg.de